Project Shatila
Thank you!!!
Our IndieGogo campaign for "Yarn & Hope for Syrian Refugees: Project Shatila" has raised $6,626USD!!
Our goal was $5,000 and with your help we have surpassed it!!
(We have also added a Donate Button so feel free to contribute what you can. Thank you!!)
Here's a little more on our campaign: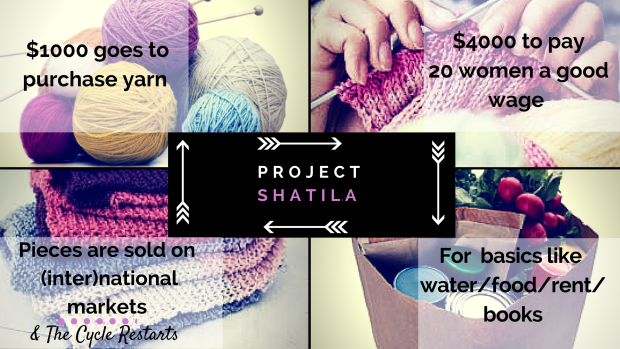 The Story of Malak
Malak is a thirty-nine-year-old mother of six who lives in Shatila refugee camp in Beirut, Lebanon. The family hails from Aleppo in north-eastern Syria, but they have not seen their hometown since they fled ISIS a year and a half ago. Malak misses her home, her garden, her friends and neighbours, but more importantly she misses living an ordinary life. She often reminisces about evenings spent knitting with her mother or friends, she tells me from her living room in Shatila refugee camp, where I have been visiting her once a week since arriving in Beirut last fall. Over time we have formed a friendship that has helped her open up to me about the hardships of life in Shatila. But also about her ideas on how to help her and other refugee women like her.
Why We Need Your Help
There are 1,069,111 Syrian refugees in Lebanon, most of whom no longer have access to stable employment. Only very few professions are open to them. Opportunities to become self-sufficient are scarce, especially for women. Basic necessities like milk powder, says Malak, have become unaffordable. They receive too little assistance from the UN and NGOs, who often lack funding. Although Malak and the women around her might be living under difficult circumstances, they are skilled, creative, and determined to escape victimhood. They want to become self-sufficient, productive members of their community again.
How You Can Help
Some of the traditional skills the women have brought with them are advanced techniques in knitting, sewing and embroidering, which are widespread in Syria and have regional patterns and colours. By knitting and selling a wide range of items, from scarves and blankets to shopping bags and wallets, these dynamic women can provide a significant contribution to rent, water, and food for their families.
With the money raised, we can purchase yarn for the women to knit with, and the rest of the budget will go towards paying them a fair wage for their work.
Once this project has started, the money raised by selling completed items can be reinvested to buy new yarn, secure a living and become self-sustaining.
Helping provide families with a livelihood in the region allows them to escape the desperation that drives many to undertake extremely dangerous, grueling journeys to Europe. We hope you will help to give them the means and the confidence to rebuild their lives and those of their children.
Like all refugees, Malak's dearest wish is a simple one: to return home to Syria. Until this day arrives, your support can help them weave a brighter future for themselves and their families.
About the Organization
Tight-Knit Syria is a grassroots organization founded in 2013 by Dana Kandalaft after a visit to the Olive Tree Camp in Northern Syria. Several girls revealed their love of knitting and expressed their concern at not just the lack of food and water, but the lack of yarn. Since that day it has become increasingly clear what a positive impact something as simple as yarn can have on Syrian women trying to stay resilient and productive in dire times.